Watch this tip or read on.
For Email Action, End Effectively
Saying "goodbye" when leaving someone's home is considered polite. The same is true for business emails. It's important to close politely.
The closing can influence the reader's response.
The closing reinforces the relationship.
Polite professional closings:
Best
Regards
All the best
Kind regards
Warm regards
Yours sincerely
Yours truly
Sincerely
These closings need CAUTION:
Cheers (if you'd say it aloud)
Thanks (can be a veiled command)
Speak with you soon (if it's true)
Initials (can be vague; VB can mean "very best")
More soon (requires a second email)
Just a name or initials (abrupt)
For Email Action, End Effectively   Save Time – Live Your Passion!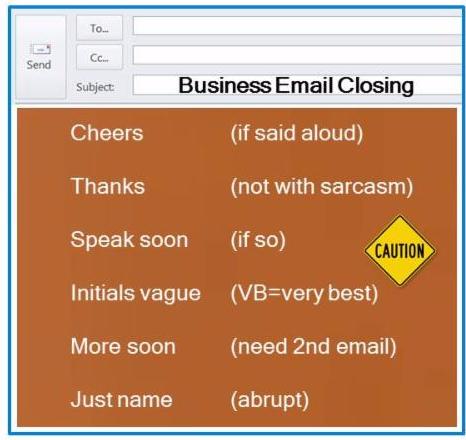 Client Feedback
"Thank you for the office organization. Loving it!"
– Broker, Fairfield Commercial Real Estate
More…
Business Email Closings